04-08-2019, 05:02 PM
Caterpillar SIS
2019 
DATA
[01
.2019
]
FULL
Parts catalogs, Repair manuals, Wiring and hydraulic diagrams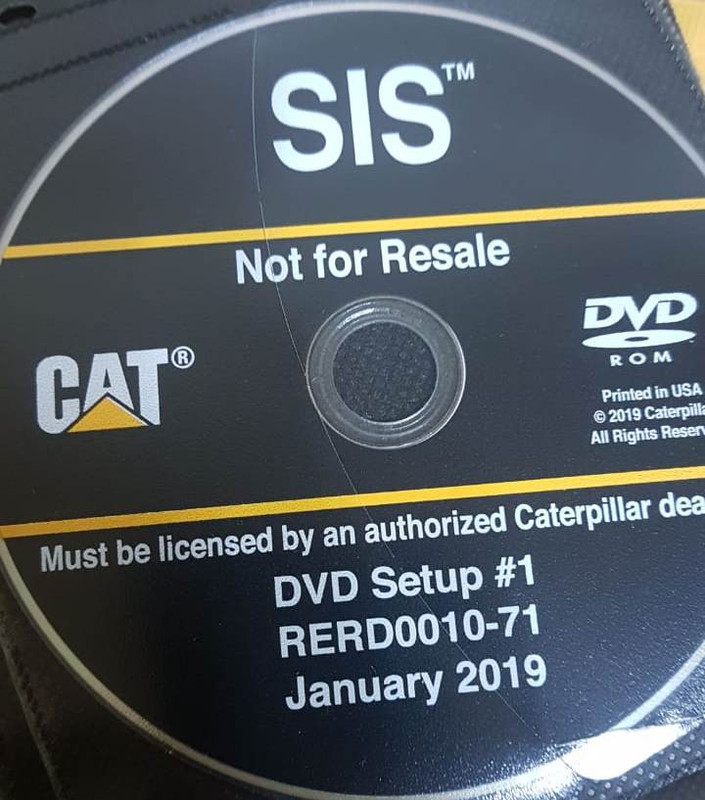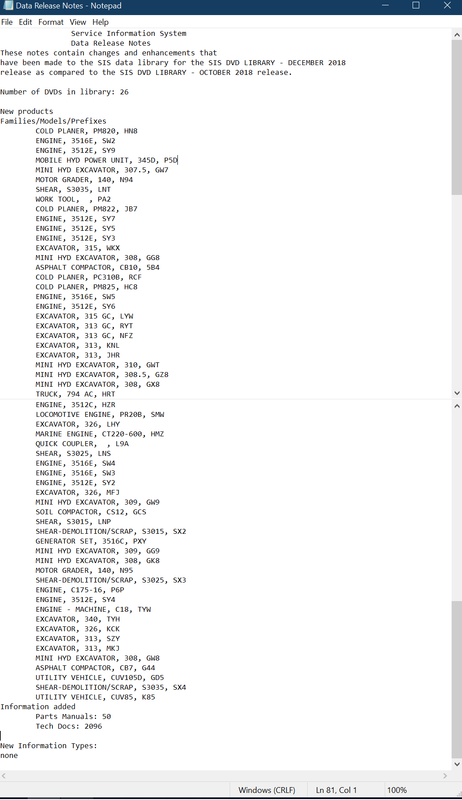 Region: All regions
Type: Parts catalogs, Repair manuals, Wiring and hydraulic diagrams
Year:

2019


Date of update: 

JAN

 2019


Languages: English, Dutch, Spanish, Italian, Chinese, German, French 
OS: WinXP ,VISTA, Win 7, WIN8, WIN10
Quantity of DVD:

32 DVD DL
CATERPILLAR STW contains parts catalogs, repair manuals, wiring and hydraulic diagrams, diagnostic software, calibration data, etc.
The catalog Caterpillar SIS 2011B you will find spare parts catalog and repair manuals world leader in production technology - Corporation Caterpillar. 
Catalog contains a wealth of indispensable information that will be required in the Exploitation and Repair: electrical and hydraulic circuits, detailed instructions for all models of equipment Caterpillar, guidelines for the management and maintenance, engine specifications, test results of all techniques, the moments of delay, gas volumes and Directory of special tools CAT
Disk 1:
TRUCK ENGINES
TRACK MATERIAL HANDLERS
ELECTRIC POWER GENERATION
EST
WHEEL SKIDDERS
LOAD HAUL DUMP
INDUSTRIAL ENGINES
MARINE ENGINES
EMAC

Disk 2:
MACHINE ENGINES
INDUSTRIAL ENGINES
MARINE ENGINES
ELECTRIC POWER GENERATION

Disk 3:
ELECTRICAL POWER GENERATION
INDUSTRIAL ENGINES
MARINE ENGINES
MACHINE ENGINES
COMPACTORS
OEM PRODUCTS
WHEEL TYPE TRACTORS

Disk 4:
WHEEL TYPE LOADERS
WHEEL TRACTOR SCRAPERS
WHEEL TYPE TRACTORS

Disk 5:
EXCAVATORS
WHEEL TYPE LOADER

Disk 6:
ARTICULATED DUMP TRUCKS
ASPHALT PAVERS
BACKHOE LOADERS
COLD PLANERS
MOTOR GRADERS
UNDERGROUND ARTICULATED TRUCKS
WORK TOOLS
INDUSTRIAL ENGINES
ELECTRIC POWER GENERATION
MACHINE ENGINES

Disk 7
CHALLENGERS
COMBINES
EXCAVAORS
INTEGRATED TOOLCARRIERS
MINI EXCAVATORS
ON HIGHWAY TRUCK
PIPELAYERS, TILLAGE
TRACK TYPE TRACTORS

Disk 8:
ROAD RECLAIMER
TRACK TYPE TRACTORS
TRACK TYPE LOADERS
TRACK TYPE SKIDDERS
SKID STEER LOADERS
INDUSTRIAL ENGINE
MACHINE ENGINE
TRUCK ENGINE
EXCAVATORS

Disk 9:
EXCAVATORS
COMBINES
MINI EXCAVATORS
FORESTRY PRODUCTS

Disk 10:
BACKHOE LOADERS
CHALLENGERS
COMBINES
MINI EXCAVATORS
SKID STEER LOADERS
TILLAGE
TELSCOPIC MATERIAL HANDLERS
WORK TOOLS

Disk 11:
ASPHALT PAVERS
COLD PLANERS
COMPACTORS
MOTOR GRADERS
ROAD RECLAIMERS

Disk 12:
EXCAVATORS

Disk 13:
TRACK TYPE TRACTORS

Disk 14: 
EXCAVATORS, OEM PRODUCTS

Disk 15:
EXCAVATORS, OEM PRODUCTS
SIS 01.2019 DVD LIST
- Disc #1:   DVDD0001-53   PRODUCT SUPPORT INFORMATION
- Disc #2:   DVDD0002-53   ELECTRIC POWER GENERATION
- Disc #3:   DVDD0003-53   MARINE ENGINES, PETROLEUM PRODUCTS, TRUCK ENGINES
- Disc #4:   DVDD0004-53   INDUSTRIAL ENGINES
- Disc #5:   DVDD0005-53   EXCAVATORS, OEM PRODUCTS
- Disc #6:   DVDD0006-42   PIPELAYERS, TRACK TYPE TRACTORS
- Disc #7:   DVDD0007-31   INTEGRATED TOOLCARRIERS, WHEEL TYPE LOADERS, WHEEL TRACTOR SCRAPERS
- Disc #8:   DVDD0008-27   DVDD0008
- Disc #9:   DVDD0009-04   ARTICULATED DUMP TRUCKS, LOAD HAUL DUMP, MACHINE CONTROL GUIDANCE PRODUCTS, OFF HIGHWAY TRUCKS, UNDERGROUND ARTICULATED TRUCKS, ON HIGHWAY TRUCKS
- Disc #10:  DVDR0010-88   BACKHOE LOADERS, CHALLENGERS, COMBINES, MINI EXCAVATORS, SKID STEER LOADERS, TILLAGE, TELSCOPIC MATERIAL HANDLERS, WORK TOOLS
- Disc #11:  DVDR0011-75   ASPHALT PAVERS, COLD PLANERS, COMPACTORS, MOTOR GRADERS, ROAD RECLAIMERS
- Disc #12:  DVDR0012-67   EXCAVATORS
- Disc #13:  DVDR0013-67   TRACK TYPE TRACTORS
- Disc #14:  DVDR0014-53   EXCAVATORS, OEM PRODUCTS
- Disc #15:  DVDR0015-44   DVDR0015
- Disc #16:  DVDR0016-30   DVDR0016
- Disc #17:  DVDR0017-20   DVDR0017
- Disc #18:  DVDR0018-13   DVDR0018
- Disc #19:  DVDR0019-08   DVDR0019



Contact US

for more details about how to buy this manual.