09-24-2018, 03:02 PM
VOLVO PROSIS Offline
Part & Repair
[01.2018]
Spare Parts Catalog & Service Information for VOLVO Equipments.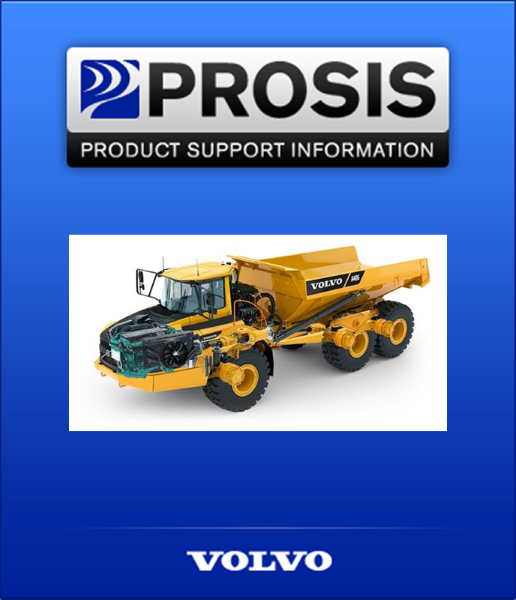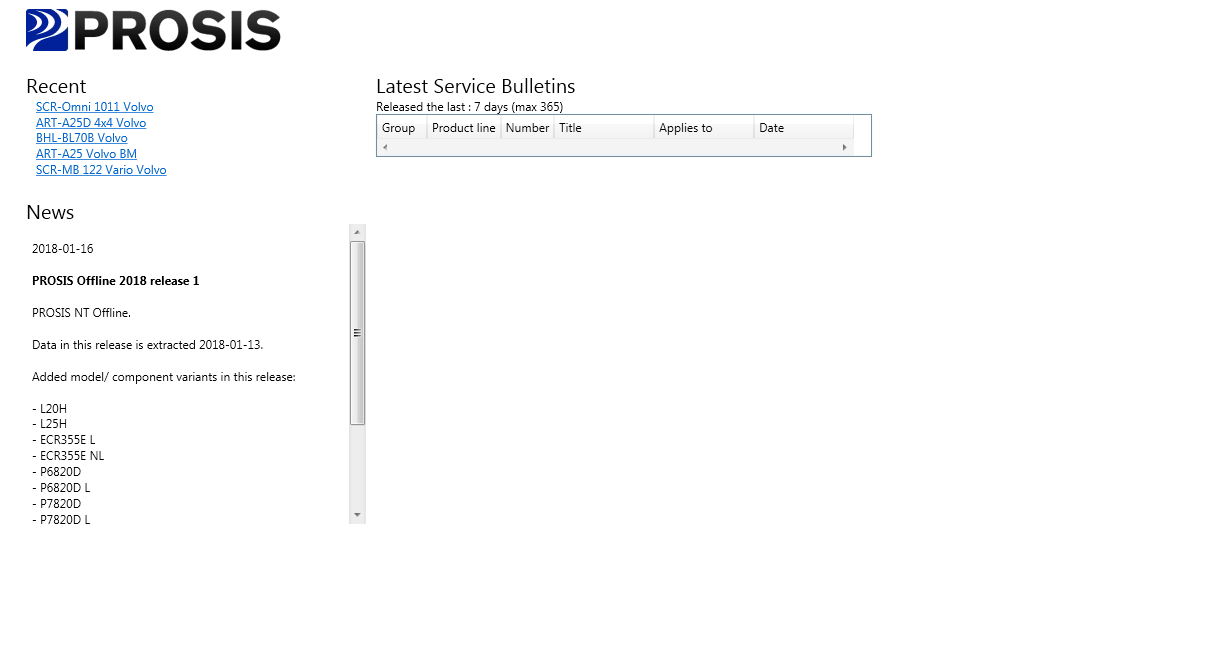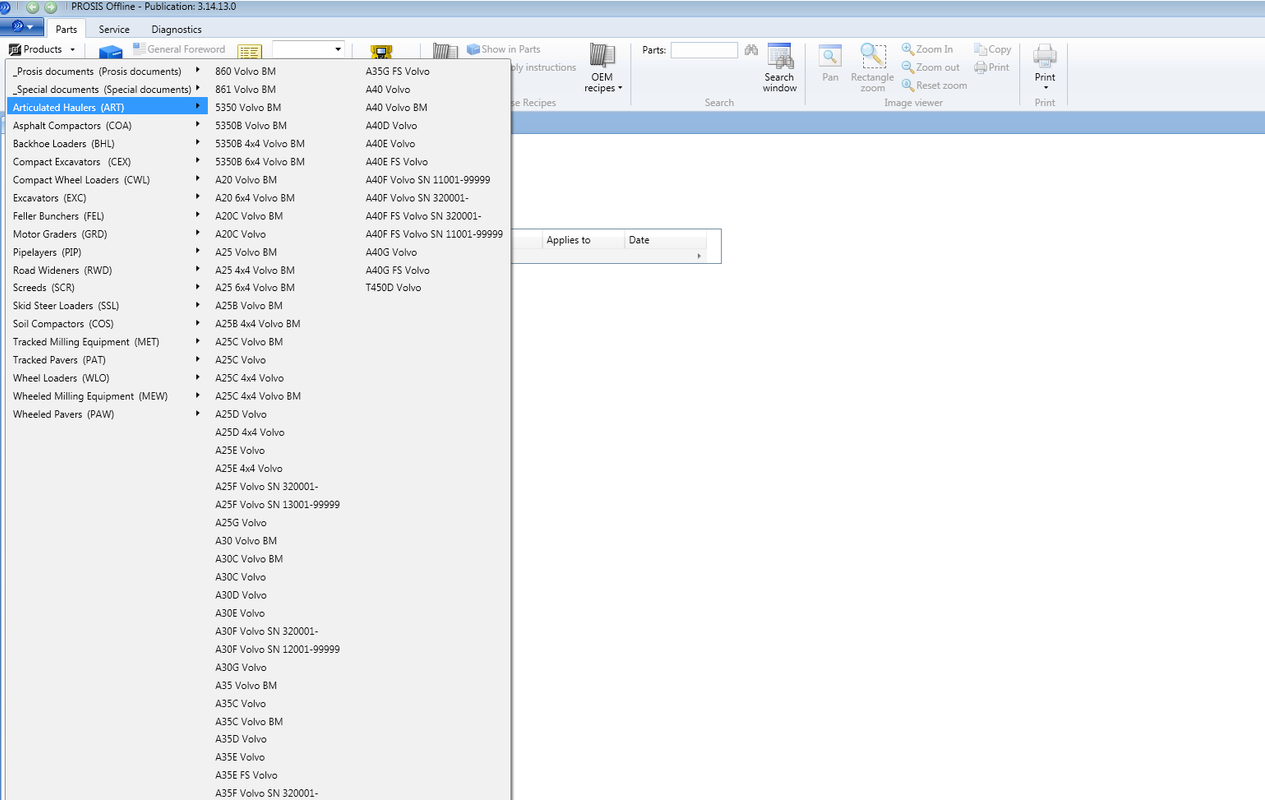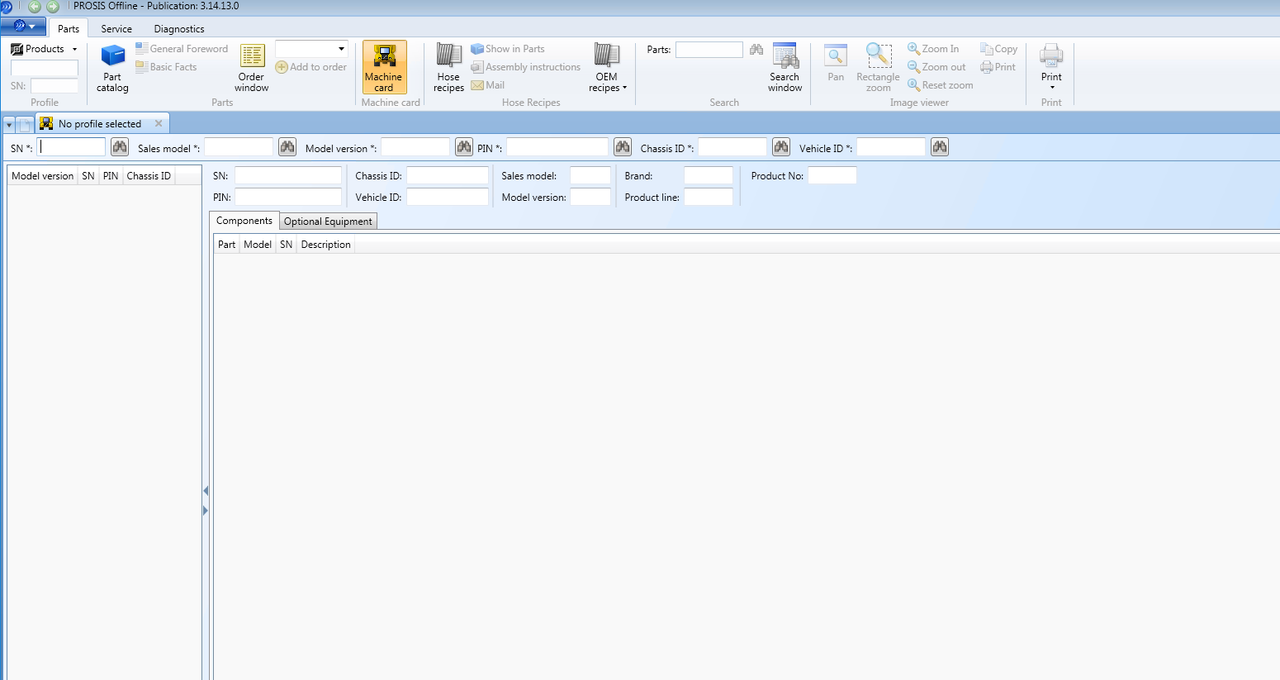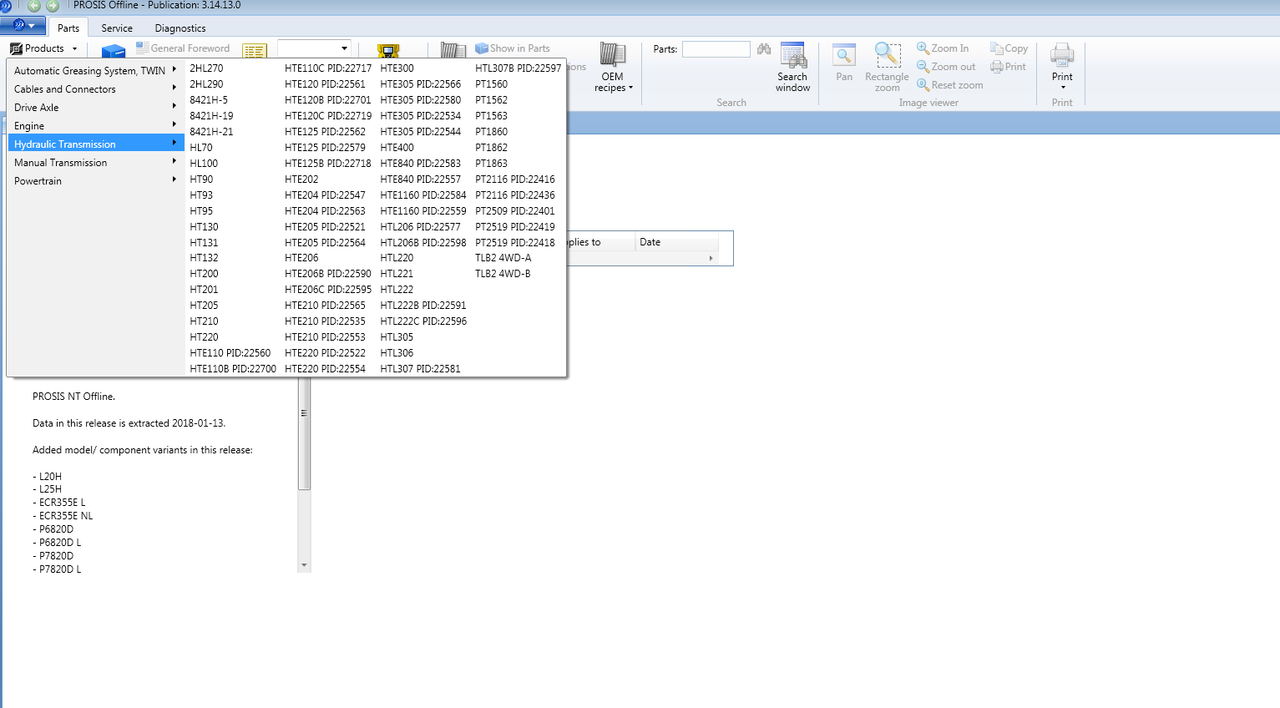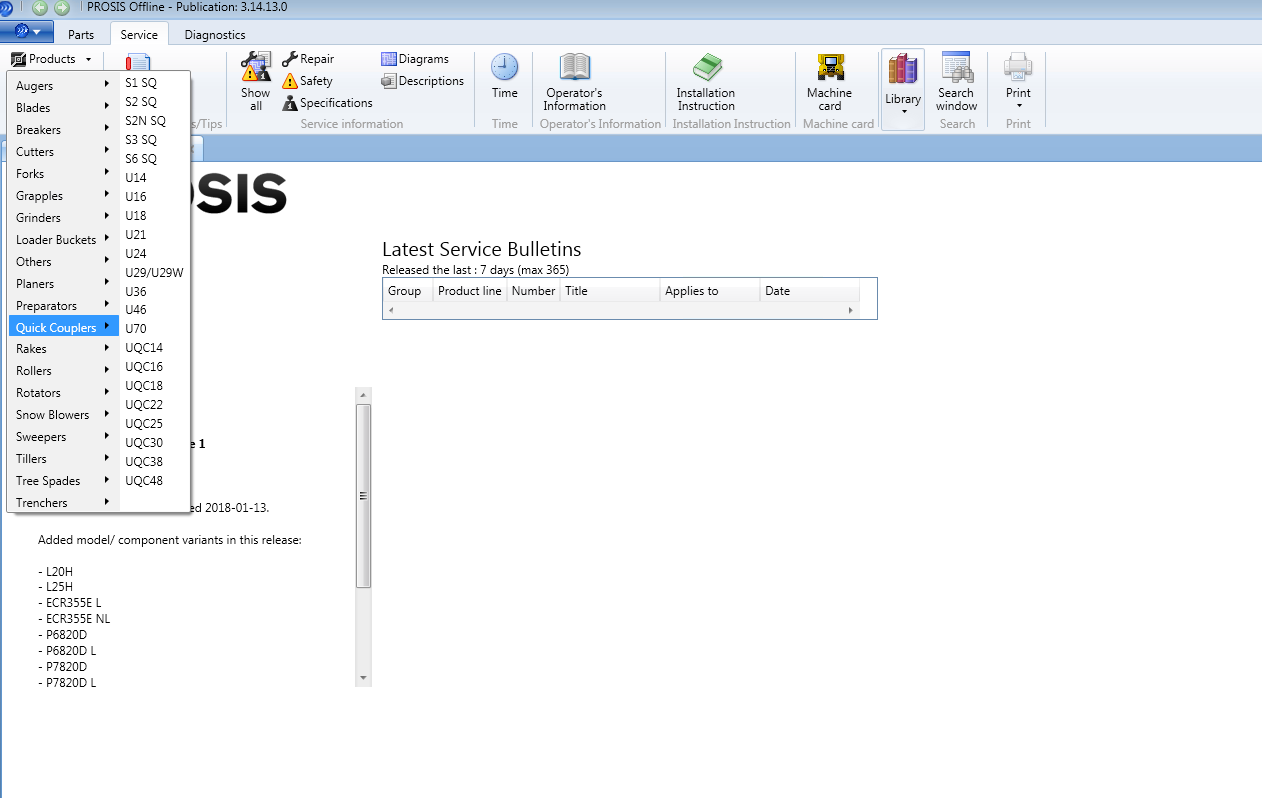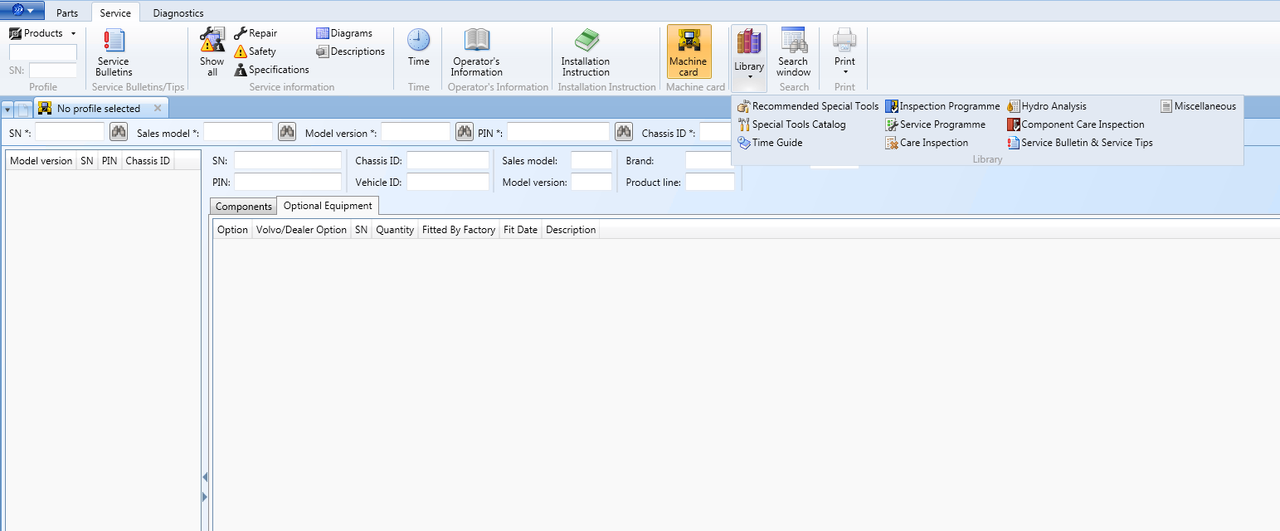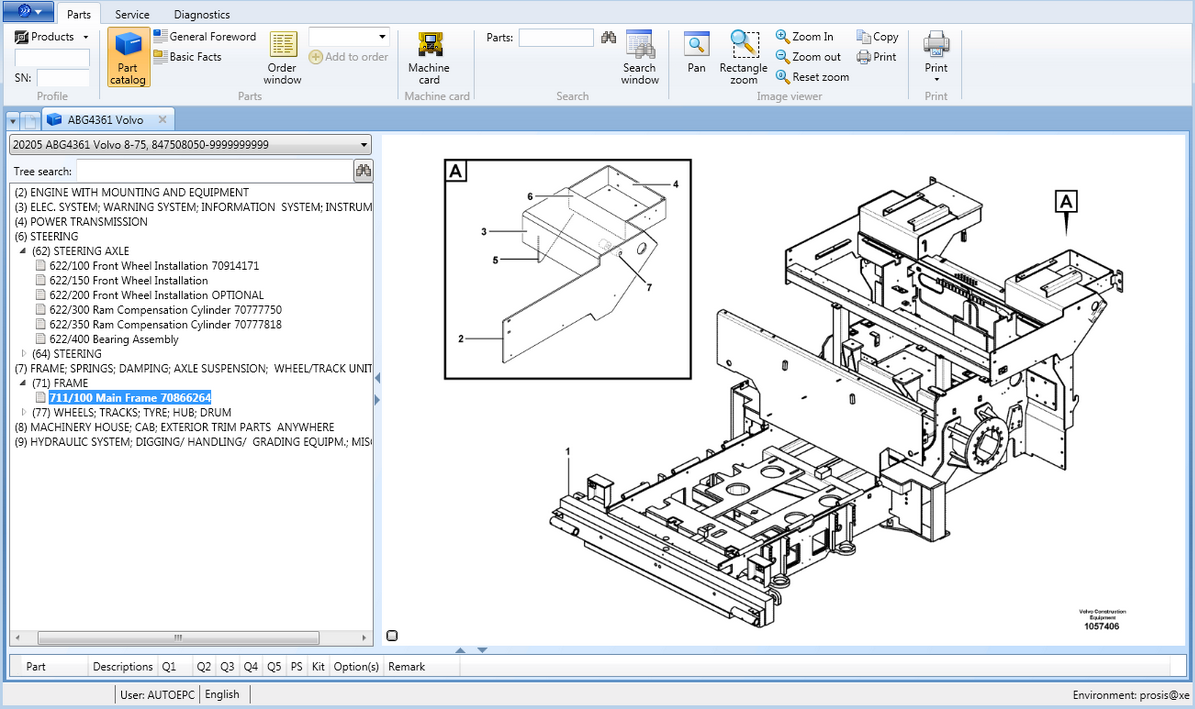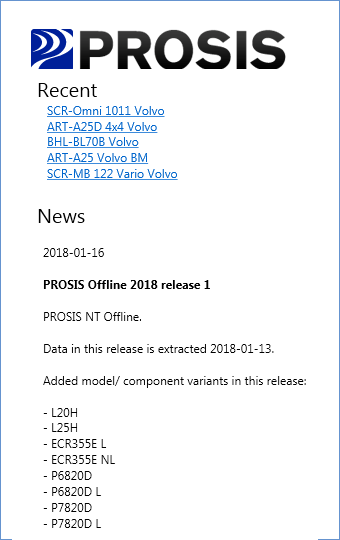 Region: All regions 
Languages: English, Spanish, German, French, Japanese
Type: Spare Parts Catalog & Service Information


Version: 3.14.13.0


OS: WinXP, Vista, Windows7, WIN8,WIN10
Quantity of CD:

5 DVDs


Year: 2018
Date of update: 01.2018
PROSIS Offline 2018 release 1
Volvo Prosis is a product support information system. It contains parts catalog, service and repair information, wiring and hydraulic diagrams, labor times, special tools catalog, etc. Volvo Prosis also provide diagnostic related information such as fault codes description, testing methods and test values.
Volvo Prosis 2018 spare parts catalog, workshop service manual, electrical wiring diagram, hydraulic diagram, maintenance all models Volvo Construction Equipment.
Volvo Prosis consist electonic spare parts catalogue, workshop manuals, repair manuals, wiring diagrams, hydravlic diagrams and etc for all models Wheel Loaders,Excavators, Articulated Haulers, Akerman Excavators, Volvo Motor Graders and etc.
Recent:

- BHL-BL70B Volvo
- SCR-MB 122 vario Volvo
- SCR-Omni 1011 Volvo
- ART-A25d 4*4 Volvo
- ART-A25 Volvo BM
Added model / component variants in this release:
- - L20H
- L25H
- ECR355E L
- ECR355E NL
- P6820D
- P6820D L
- P7820D
- P7820D L
- MC100C
- EW220E
- EW240e MH
- EWR170E
- L350H
Products:
Articulated haulers (ART)

5350 (Volvo BM)
5350B (Volvo BM)
5350B 4x4 (Volvo BM)
5350B 6x4 (Volvo BM)
860 (Volvo BM)
861 (Volvo BM)
A20 (Volvo BM)
A20 6x4 (Volvo BM)
A20C (Volvo BM)
A20C (Volvo)
A25 (Volvo BM)
A25 4x4 (Volvo BM)
A25 6x4 (Volvo BM)
A25B (Volvo BM)
A25B 4x4 (Volvo BM)
A25C (Volvo BM)
A25C (Volvo)
A25C 4x4 (Volvo BM)
A25C 4x4 (Volvo)
A25D (Volvo)
A25D 4x4 (Volvo)
A25E (Volvo)
A25E 4x4 (Volvo)
A25F (37214) (Volvo)
A30 (Volvo BM)
A30C (Volvo BM)
A30C (Volvo)
A30D (Volvo)
A30E (Volvo)
A35 (Volvo BM)
A35C (Volvo BM)
A35C (Volvo)
A35D (Volvo)
A35E (Volvo)
A35E FS (Volvo)
A35F (37142) (Volvo)
A35F FS (37141) (Volvo)
A40 (Volvo BM)
A40 (Volvo)
A40D (Volvo)
A40E (Volvo)
A40E FS (Volvo)
A40F (37535) (Volvo)
A40F FS (37534) (Volvo)
T450D (Volvo)
Backhoe loaders (BHL)

BL60 (Volvo)
BL60B (Volvo)
BL61 (Volvo)
BL61 PLUS (Volvo)
BL61B (Volvo)
BL70 (Volvo)
BL70B (Volvo)
BL71 (Volvo)
BL71 PLUS (Volvo)
BL71B (Volvo)
Compact excavators (CEX)

EC13 XR (Volvo)
EC13 XTV (Volvo)
EC14 (Volvo)
EC15 XR (Volvo)
EC15 XT (Volvo)
EC15 XTV (Volvo)
EC15B XR (Volvo)
EC15B XT (Volvo)
EC15B XTV (Volvo)
EC15C (Volvo)
EC17C (Volvo)
EC18C (Volvo)
EC20 XT (Volvo)
EC20 XTV (Volvo)
EC20B XT (Volvo)
EC20B XTV (Volvo)
EC20C (Volvo)
EC25 (Volvo)
EC27C (Volvo)
EC30 (Volvo)
EC35 (Volvo)
EC35C (Volvo)
EC45 (Volvo)
EC50 (Volvo)
EC50 VV (Volvo)
EC55 (Volvo)
EC55-2 (Volvo)
EC55B (Volvo)
EC55C (Volvo)
EC55-EU (Volvo)
EC60C (Volvo)
EC70 (Volvo)
EC70 VV (Volvo)
ECR28 (Volvo)
ECR38 (Volvo)
ECR48C (Volvo)
ECR58 (Volvo)
ECR88 (Volvo)
EW50 (Volvo)
EW50 VV (Volvo)
EW55 (Volvo)
EW55B (Volvo)
EW60C (Volvo)
EW70 (Volvo)
EW70 VV (Volvo)
Asphalt compactors (COA)

CR24 (Volvo)
CR30 (Volvo)
DD14S (Volvo)
DD16 (Volvo)
DD22 (Volvo)
DD24 (Volvo)
DD29 (Volvo)
DD30 (Volvo)
DD31HF (Volvo)
DD38HF (Volvo)
DD70 (Volvo)
DD70HF (Volvo)
DD80 (Volvo)
DD85 (Volvo)
DD90 (Volvo)
DD90HF (Volvo)
DD95 (Volvo)
DD100 (Volvo)
DD100HF (Volvo)
DD112HF (Volvo)
DD118HA (Volvo)
DD118HF (Volvo)
DD118HFA (Volvo)
DD126HF (Volvo)
DD132HF (Volvo)
DD136HF (Volvo)
DD138HA (Volvo)
DD138HF (Volvo)
DD138HFA (Volvo)
DD146HF (Volvo)
PT125 (Volvo)
PT220RH (Volvo)
PT240RH (Volvo)
Soil compactors (COS)

SD25D (Volvo)
SD25F (Volvo)
SD45D (Volvo)
SD45F (Volvo)
SD70D (Volvo)
SD70F (Volvo)
SD75 (Volvo)
SD77DA (Volvo)
SD77DX (Volvo)
SD77F (Volvo)
SD100C (Volvo)
SD100D (Volvo)
SD100D C (Volvo)
SD100F C (Volvo)
SD105F (Volvo)
SD110 (Volvo)
SD110C (Volvo)
SD115 (Volvo)
SD115D (Volvo)
SD115F (Volvo)
SD116DX (Volvo)
SD116F (Volvo)
SD122 (Volvo)
SD130D (Volvo)
SD130DX (Volvo)
SD130F (Volvo)
SD150 (Volvo)
SD160DX (Volvo)
SD190DX (Volvo)
SD200DX (Volvo)
Compact wheel loaders (CWL)

L20B (Volvo)
L20F (Volvo)
L25B (Volvo)
L25F (Volvo)
L30 (Volvo BM)
L30 (Volvo)
L30B (Volvo)
L32 (Volvo)
L32B (Volvo)
L35 (Volvo)
L35B (Volvo)
L40 (Volvo)
L40B (Volvo)
L45 (Volvo)
L45B (Volvo)
L45F (Volvo)
L45G (Volvo)
L50F (Volvo)
L50G (Volvo)
ZL302C (Volvo)
ZL402C (Volvo)
ZL502C (Volvo)
Excavators (EXC)

EC130 (Akerman)
EC130C (Akerman)
EC130C {Volvo)
EC135B LC (Volvo)
EC140 LC (Votvo)
EC140 LCM (Volvo)
EC140B LC (Volvo)
EC140B LCM (Volvo)
EC140C L (Volvo)
EC140C LM (Volvo)
EC140D L (Volvo)
EC1400 LM (Volvo)
EC150 (Volvo)
EC150 (Akerman)
EC150 LC (Volvo)
EC150C (Akerman)
EC150C (Volvo)
EC160 (Volvo)
EC160B LC (Volvo)
EC160B NLC (Volvo)
EC160C L (Volvo)
EC160C NL (Volvo)
EC160D L (Volvo)
EC160D NL (Volvo)
EC180B LC (Volvo)
EC180C L (Volvo)
EC200 (Akerman)
EC200 (Volvo)
EC200B (Volvo)
EC210 (Volvo)
EC210 F (Volvo)
EC210 LC (Volvo)
EC210 LR (Volvo)
EC210 NLC (Volvo)
EC210B F (Volvo)
EC210B FX (Volvo)
EC210B LC (Volvo)
EC210B LR (Volvo)
EC210B NC (Volvo)
EC210B NLC (Volvo)
EC210C L (Volvo)
EC210C LD (Volvo)
EC210C LR (Volvo)
EC210C N (Volvo)
EC210C NL (Volvo)
EC220D L (Volvo)
EC220D LR (Volvo)
EC220D N (Volvo)
EC220D NL (Volvo)
EC230 (Akerman)
EC230B (Volvo)
EC230B (Akerman)
EC235C NL (Volvo)
EC2350 NL (Volvo)
EC240 (Volvo)
EC240 LC (Volvo)
EC240 LR (Volvo)
EC240 NLC (Volvo)
EC240B FX (Volvo)
EC240B LC (Volvo)
EC240B LR (Volvo)
EC240B NLC (Volvo)
EC240C L (Volvo)
EC240C LD (Volvo)
EC240C LR (Volvo)
EC240C NL (Volvo)
EC250D L (Volvo)
EC250D LR (Volvo)
EC250D NL (Volvo)
EC280 (Volvo)
EC290 (Volvo)
EC290 LC (Volvo)
EC290 LR (Volvo)
EC290 NLC (Volvo)
EC290B FX (Volvo)
EC290B LC (Volvo)
EC290B LCD (Volvo)
EC290B LR (Volvo)
EC290C L (Volvo)
EC290C LD (Volvo)
EC290C LR (Volvo)
EC290C NL (Volvo)
EC300 (Akerman)
EC300D L (Volvo)
EC300D LD (Volvo)
EC300D LR (Volvo)
EC300D NL (Volvo)
EC330B LC (Volvo)
EC330C L (Volvo)
EC330C LD (Volvo)
EC340 (Volvo)
EC340D L (Volvo)
EC360 (Volvo)
EC360 LC (Volvo)
EC360 NLC (Volvo)
EC360B LC (Volvo)
EC360B LR (Volvo)
EC360B NLC (Volvo)
EC360C HR (Volvo)
EC360C L (Volvo)
EC360C LD (Volvo)
EC360C NL (Volvo)
EC380D HR (Volvo)
EC380D L (Volvo)
EC390 (Volvo)
EC420 (Akerman)
EC450 (Akerman)
EC450 (Volvo)
EC460 (Volvo)
EC460 LC (Volvo)
EC460B LC (Volvo)
EC460B LR (Volvo)
EC460C HR (Volvo)
EC460C L (Volvo)
EC460C LD (Volvo)
EC480D HR (Volvo)
EC480D L (Volvo)
EC620 (Akerman)
EC650 (Akerman)
EC650 (Volvo)
EC700B HR (Volvo)
EC700B LC (Volvo)
EC700C HR (Volvo)
EC700C L (Volvo)
EC700C LD (Volvo)
ECR145C L (Volvo)
ECR145D L (Volvo)
ECR235C L (Volvo)
ECR235D L (Volvo)
ECR305C L (Volvo)
EW130 (Akerman)
EW130C (Volvo)
EW130C (Akerman)
EW140 (Volvo)
EW140B (Volvo)
EW140C (Volvo)
EW140D (Volvo)
EW145B (Volvo)
EW150 (Akerman)
EW150C (Volvo)
EW150C (Akerman)
EW160 (Volvo)
EW160B (Volvo)
EW160C (Volvo)
EW160D (Volvo)
EW170 (Volvo)
EW170 KR (Volvo)
EW180 (Volvo)
EW180B (Volvo)
EW180C (Volvo)
EW180D (Volvo)
EW200 (Volvo)
EW200 (Akerman)
EW200B (Volvo)
EW210C (Volvo)
EW210D (Volvo)
EW230B (Volvo)
EW230B (Akerman)
EW230C (Volvo)
FC2121C (Volvo)
FC2421C (Volvo)
FC2924C (Volvo)
FC3329C (Volvo)
Motor graders (GRD)

G710 (Volvo)
G710 VHP (Volvo)
G710B (Volvo)
G716 VHP (Volvo)
G720 (Volvo)
G720 VHP (Volvo)
G720B (Volvo)
G726 VHP (Volvo)
G726B (Volvo)
G730 (Volvo)
G730 VHP (Volvo)
G730B (Volvo)
G736 VHP (Volvo)
G740 (Volvo)
G740 VHP (Volvo)
G740B (Volvo)
G746B (Volvo)
G780 (Volvo)
G780 VHP (Volvo)
G780B (Volvo)
G930 (Volvo)
G930B (Volvo)
G940 (Volvo)
G940B (Volvo)
G946 (Volvo)
G946B (Volvo)
G960 (Volvo)
G960B (Volvo)
G970 (Volvo)
G976 (Volvo)
G990 (Volvo)
Tracked pavers (PAT)

ABG2820 (Volvo)
ABG325 (Volvo)
ABG5820 (Volvo)
ABG6820 (Volvo)
ABG7820 (Volvo)
ABG7820B (Volvo)
ABG8820 (Volvo)
ABG8820B (Volvo)
ABG9820 (Volvo)
P7820C ABG (12762881) (Volvo)
P8820C ABG (12763184) (Volvo)
PF4410 (Volvo)
PF6110 (Volvo)
Wheeled pavers (PAW)

ABG3870 (Volvo)
ABG4361 (Volvo)
ABG4371 (Volvo)
ABG5770 (Volvo)
ABG5870 (Volvo)
ABG6870 (Volvo)
AGS 7.5 (Volvo)
P4370B (Volvo)
PF161 (Volvo)
PF2181 (Volvo)
PF3172 (Volvo)
PF3200 (Volvo)
PF6160 (Volvo)
PF6170 (Volvo)
Paver Controls (Volvo)
Pipelayers (PLC)

PL3005D (Volvo)
PL4608 (Volvo)
PL4611 (Volvo)
PL4808D (Volvo)
Road wideners (RWD)

RW100A (Volvo)
RW195D (Volvo)
Screed/Screeds (SCR)

2.5/5B HSE (Volvo)
3/6 HSE (Volvo)
8 FT Wedgelock (Volvo)
10 FT Electric WL (Volvo)
10 FT Wedgelock (Volvo)
MB120 (Volvo)
MB122 (Volvo)
MB 120 Vario (Volvo)
MB 122 Vario (Volvo)
Omni 1A (Volvo)
Omni 318 (Volvo)
Omni 1000 (Volvo)
Omni 1011 (Volvo)
Omni 1021 (Volvo)
Omni IIIA (Volvo)
Omni IIIE (Volvo)
Omni V (Volvo)
Ultimat 8 (Volvo)
Ultimat 10 (Volvo)
Ultimat 16 (Volvo)
Ultimat 20 (Volvo)
Ultimat 200 (Volvo)
VB30 (Volvo)
VB78 ETC (Volvo)
VB78 GTC (Volvo)
VB88 ETC (Volvo)
VB88 GTC (Volvo)
VB 50 (Volvo)
VB 79 ETC (Volvo)
VB 89 ETC (Volvo)
VB-T 78 ETC (Volvo)
VB-T 78 GTC (Volvo)
VB-V 50 (Volvo)
VDT120 (Volvo)
VDT121 (Volvo)
VDT 120 Vario (Volvo)
VDT 121 Vario {Volvo}
VDT-V78 ETC (Volvo)
VDT-V78 GTC (Volvo)
VDT-V88 GTC (Volvo)
VDT-V89 ETC (Volvo)
Skid steer loaders (SSL)

MC60 (Volvo)
MC60B (Volvo)
MC60C (Volvo)
MC70 (Volvo)
MC70B (Volvo)
MC70C (Volvo)
MC80 (Volvo)
MC80B (Volvo)
MC85C (Volvo)
MC90 (Volvo)
MC90B (Volvo)
MC95C (Volvo)
MC105C (Volvo)
MC110 (Volvo)
MC110B (Volvo)
MC110C (Volvo)
MC115C (Volvo)
MC125C (Volvo)
MC135C (Volvo)
MC155C (Volvo)
MCT70C (Volvo)
MCT85C (Volvo)
MCT95C (Volvo)
MCT110C (Volvo)
MCT25C (Volvo)
MCT35C (Volvo)
MCT145C (Volvo)
Wheel Loaders (WLO)

616B (Volvo BM)
646 (Volvo BM)
4200 (Volvo BM)
4200B (Volvo BM)
4300 (Volvo BM)
4300B (Volvo BM)
4400 (Volvo BM)
4500 (Volvo BM)
4600 (Volvo BM)
4600B (Volvo BM)
6300 (Volvo BM)
EL70 (Volvo BM)
EL70C (Volvo BM)
L50 (Volvo BM)
L50B (Volvo BM)
L50C (Volvo)
L50C (Volvo BM)
L50C OR (Volvo BM)
L50C OR (Volvo)
L50D (Volvo)
L50E (Volvo)
L60E (Volvo)
L60E OR (Volvo)
L60F (Volvo)
L60G (Volvo)
L70 (Volvo BM)
L70B (Volvo BM)
L70C (Volvo)
L70C (Volvo BM)
L70D (Volvo)
L70D OR (Volvo)
L70E (Volvo)
L70E OR (Volvo)
L70F (Volvo)
L70G (Volvo)
L90 (Volvo BM)
L90 CO (Volvo BM)
L90B (Volvo BM)
L90C (Volvo)
L90C (Volvo BM)
L90C OR (Volvo)
L90C OR (Volvo BM)
L90D (Volvo)
L90D OR (Volvo)
L90E (Volvo)
L90E OR (Volvo)
L90F (Volvo)
L90G (Volvo)
L110E (Volvo)
L110F (Volvo)
L110G (Volvo)
L120 (Volvo BM)
L120B (Volvo BM)
L120C (Volvo BM)
L120C (Volvo)
L120D (Volvo)
L120E (Volvo)
L120F (Volvo)
L120G (Volvo)
L150 (Volvo BM)
L150C (Volvo BM)
L150C (Volvo)
L150C LB (Volvo)
L150D (Volvo)
L150E (Volvo)
L150F (Volvo)
L150G (Volvo)
L160 (Volvo BM)
L160 CO (Volvo BM)
L180 (Volvo BM)
L180 CO (Volvo BM)
L180 HL (Volvo BM)
L180C (Volvo BM)
L180C (Volvo)
L18X CO (Volvo BM)
L180C CO (Volvo)
L180CHL (Volvo BM)
L180CHL (Volvo)
L1800 (Volvo)
11800 HL (Volvo)
L180E (Volvo)
L180E HL (Volvo)
L180f (Volvo)
L180F HL (Volvo)
L180G (Volvo)
L180G HL (Volvo)
L220D (Volvo)
L220E (Volvo)
L220F (Volvo)
L220G (Volvo)
L250G (Volvo)
L330C (Volvo BM)
L330C (Volvo)
L330C LL (Volvo)
L330C LL (Volvo BM)
L330D (Volvo)
L330E (Volvo)
L350F (Volvo)
Feller Bunchers (FEL)

FB2800C (Volvo)
FBR2800C (Volvo)
Tracked Milling Equipment (MET)

MT2000 (Volvo)
Wheeled Milling Equipment (MEW)

MW500 (Volvo)